Outlast your cravings.
The NicoDerm® CQ® Patch can help you quit smoking, and provides up to 24 hours of craving relief. When used with a support plan, it can increase your chances of success.**
** Craving relief associated with quitting smoking. Individual results vary.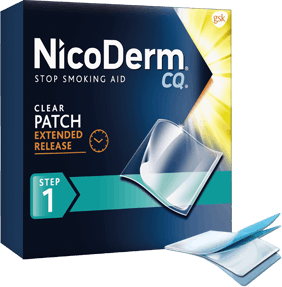 NicoDerm CQ Patch.
NicoDerm CQ helps you beat the urge to smoke throughout the day by delivering therapeutic nicotine so you can quit.
NicoDerm CQ comes in 3 strengths so you can gradually step down the amount of nicotine you get as you progress. Depending on how many cigarettes you smoke each day, you'll start on Step 1 or Step 2.
How long should you wear your patch?
The patch can be worn for 16 or 24 hours. Watch this video to learn more.
THE TOUGH TRUTH:
Smokers lose at least 10 years of their life expectancy compared with people who never smoked.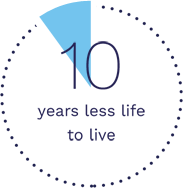 THE GOOD NEWS:
Quitting smoking before the age of 40 reduces the risk of dying from smoking-related disease by about 90%.